Photo Tour: Lofoten In Winter 2024!
1 spot just opened!
Would you like to photograph the northern lights with me in Norway next year? One spot just opened in this previously filled tour.
I am excited to be teaming up with the outstanding photographer and trip leader, Dr. Kah-Wai Lin on this dream tour of Lofoten, Norway, one of my favorite places on Earth.

Kah-Wai is a well-known photographer and educator who has organized and led hundreds of photo tours and workshops throughout the world.
During the tour, our main focus will be capturing the elusive but strikingly beautiful Aurora Borealis. We will also be capturing unique images of ice and winter, the breathtakingly beautiful and world-renowned mountains, colorful fjords, and pristine beaches, as well as the picturesque and authentic red Lofoten cabins. Photographic opportunities are present around every corner.
Kah-Wai is the organizer and operator of this tour.
Stupidly Simple Actions To Streamline Your Photoshop Workflow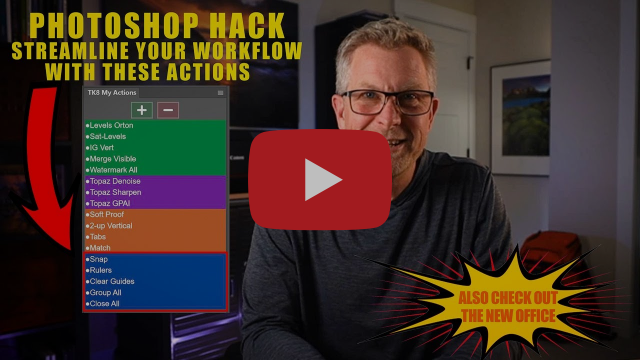 Find out how to create simple actions in Photoshop to make the menu and keyboard functions you use all the time even faster and easier. I show how to make actions that will toggle on and off edge-snapping and rulers with a single click as well as clear guides, group all layers, and close all images without needing to go to a menu or type a shortcut. You can use the idea to make actions for any number of simple things you frequently do in Photoshop. TK8 Plugin users will also benefit from adding these actions to the TK8 My Actions module.

Thanks always for tuning in. Wishing you the best!
-Sean